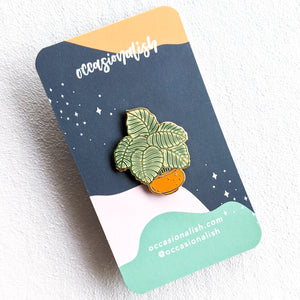 Calathea Orbifolia Enamel Pin
Regular price $11.00 $11.00 Sale
The trademark of the Calathea orbifolia is the gorgeous silver bands on its leaves. Subtle, but adds a lot, so that this plant makes a very pretty addition to your plant family—and this pin will make a very pretty addition to your pin family too!
An enamel pin to add flair to your collar, jacket, or bag. Perfect for collecting, displaying, or gifting to a friend!
The pin is made with hard enamel and polished gold-colored metal plating. It has two posts on the back for extra security, and come with rubber clutch backings.
• 1.25" Hard enamel pin
• 2 Posts with rubber clutches